Cast Iron Tortilla Press
The weight of a cast iron tortilla press makes it much easier to make a lot of tortillas at a time.
Handy as the tortilla press is, most users will discover that the material it is made of will dictate to a large degree how successful their tortilla-making experience is going to be. The cheaper ones are made of plastic or aluminum but these can move around while the user is doing the pressing because they are so light. This is why the cast iron tortilla press has become so popular in tortilla-making kitchens and it is no surprise that they are the hands down favorite by far in savvy Mexican and Southwestern kitchens in which a lot of tortillas are made. Their heavy weight not only keeps them from moving around too much while the tortillas are being made but the heavy lids actually aid in the pressing, giving you more leverage and making the job much easier. If you are going to make a lot of tortillas in one go, this extra help will quickly become very welcome. Cast iron tortilla presses come mainly in two sizes--6 1/2 and 8 inches--and are very modestly priced.
The following is a very popular tortilla press that is sold online:
Imusa Cast Iron Tortilla Press, 8 inch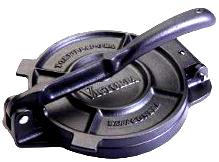 Product Dimensions: 8 x 10 x 3 1/2 inches.
Shipping Weight: 9 pounds

The cast iron, tinned Victoria tortilla press is perfect for making your favorite corn or flour tortillas. It is heavy and sturdy allowing for easy handling when pressing. The long pressing handle is re-inforced at the base. The unique design allows for various thicknesses of tortillas. Wash with warm soapy water.

A real user's review:
"...My husband purchased this press for me, and it is so easy to use...I have read that there are two types of presses: cast iron and aluminum. The aluminum is lighter, but requires more force..."

Many of these presses will have some type of silvering or tinning in the inside surfaces in order to help the pressed tortillas peel off more easily and to prevent rust. In practice, the user will probably use plastic wrap or wax paper to cover the tortilla dough while pressing as this not only makes it easier to peel the tortillas off but reduces a lot of the messiness involved with handling dough. A good idea is to use a cut up ziploc bag of the right size--cut off the upper locking 'zip' part of the bag along with the sides and leave the bottom fold intact. So there is no need to pay extra for this silvering and if you can get a cast iron tortilla without it for much cheaper, this is not such a critical detail as long as you remember to use the plastic wrap to prevent rust.

Like most cast iron utensils and appliances, cast iron tortilla presses will come from the factory covered in a small amount of light oil to prevent rust. The manufacturers usually recommend that we wash them with warm soapy water to remove this oil. It is also a good idea to make sure the tortilla press is seasoned before use though many do come ready-seasoned nowadays.

Seasoning your cast iron tortilla press


All experienced cooks know that a well-seasoned piece of cookware not only cooks the best but is also the best 'natural non-stick' cookware out there because of the 'patina' that builds up with use. The more the use, the better the patina.





In the old days, the process of seasoning cast iron cookware would begin by having it placed on an open fire for a couple of hours until it turned slightly red and then carefully taking it out of the fire and allowing to cool before being scoured thoroughly. Nowadays, we can get by with putting it into a an oven and running it through one self-cleaning cycle. However, some cast iron cookware comes pre-heat-treated nowadays so we may be able to skip this step if that's the case.

Next, you will want to remove the oil that your new cast iron tortilla press may have been coated with at the factory in order to prevent rust. You do this by washing it in warm, soapy water using a scouring pad and then drying it a completely as possible, maybe putting it into the oven for a few minutes just to make sure. This is very important because in the next step we will be coating the tortilla press with our own oil and every minute pore needs to be absent of water which will not allow the oil to work its way into the metal.

Next, coat the tortilla press with corn oil, crisco or lard thoroughly, making sure that the entire surface is covered. You can use oil-soaked cutips to help you reach tight spaces if necessary. Then place it in an oven at 300 degrees Farenheit for an hour or so to bake the oil into the metal.

Remove from oven and allow it to cool completely before you repeat the oil-and-bake process a couple more time for best results.

Thereafter, every time you wash your cast iron tortilla press, do so quickly in warm water and avoid using soap in order to preserve the 'patina' and then dry it quickly. Then spread a little oil all over it and place in the oven again till it begins to smoke as the oil burns off.

For successful long-term tortilla making, look to make a cast iron tortill press a part of your kitchen.