Tortilla Maker
The tortilla maker is an all-in-one solution for making homemade tortillas the easy way.
Modern tortilla makers are a blessing if you make tortillas often. They are basically tortilla presses with a heating element or two in it that heats and bakes the tortilla after pressing it--a huge time saver. Most will allow you to set the degree of doneness so you can dial in a lower setting if you want to make a dish that will need further cooking. If you want to simply roll a soft taco quickly, set it to full and you are ready in a few moments without having to turn on your cooking range to heat a griddle.

Following is a description of a Villaware tortilla maker machine:

VillaWare V5955 Grand Wrap Tortilla and Flatbread Maker:
G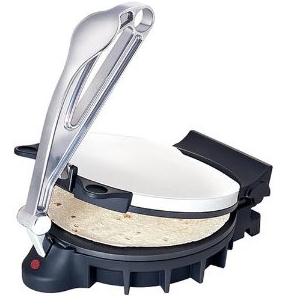 rand wrap flatbread maker flattens and bakes up to 10" tortillas. Professional style top handle press makes flattening dough easy. Non stick coating. 1000 watts of power. Ready light to let you know when ready to bake. Cool touch handle. Stands on end for storage. Cord wrap to eliminate tangles.
--Flattens and bakes 10-inch tortilla wraps, pitas, chapatis and other flatbreads
--Heavyweight die-cast aluminum cooking plates distribute heat evenly
--Nonstick cooking plates release breads easily, wipe clean
--1000 watts of power, automatic temperature control, ready light
--Convenient cord wrap; stands on end for storage
There are several price points for tortilla makers and the less expensive ones that are meant for home use normally don't have the power to fully cook the tortillas rapidly and only the commercial grade tortilla makers can do that. Typically, you will press the tortilla first then open the press and let the tortilla cook on one side if it has a cooking plate only on one side as many do. When that side is done, you will need to flip it over to cook the other side. This allows the tortilla to puff up. However, most will pre-cook the tortillas quickly so that they come off the appliance easily and can be finished quickly in a comal (a tortilla griddle). This is true even if the tortilla maker has two cooking plate elements, top and bottom, and is the more efficient way of cooking tortillas anyway because it is a waste to use a 1000 watts or more just to fully cook a tortilla. The time savings comes from not having to carefully peel off the raw, pressed tortillas, possibly roll them out again with a rolling pin if they shrink, and then cook them from scratch on a griddle.
Of course, they can be used as a dual purpose item which is my preference--a tortilla press when you have the time to make 'real' tortillas and as a press-cum-cooker when you don't have the time.
It is helpful to be aware that these appliances will have different heating capabilites and therefore a standard recipe for making the dough will not always give good results. This means that you have to try different amounts of water and oil while making your dough and arrive at the right combination for your needs by trial and error. Once you do so, making the tortillas will be a breeze and you will enjoy using your tortilla maker.