Tortilla Warmer
Keep your tortillas warmer, fresher and better tasting with these tortilla warmers.
Tortillas can dry out and become hard and unappetizing if they are left uncoverd for too long after being made. One of the best ways to keep them soft, warm, fresh and great tasting is to wrap them in a cotton cloth and store in a tortilla warmer till you are ready to eat them. Then you can take them out one by one and make your burritos, soft tacos, enchiladas or fajitas fresh.
Tortilla Warmers (and other stoneware) from Rising Sky Pottery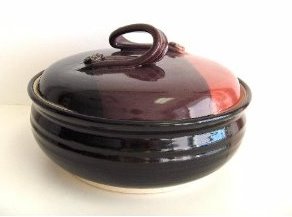 (Recommended!)
(Click on image for current price)
Product description:
Superior hand-thrown stoneware tortilla warmers and other pieces by New Mexico potters Dorothy & Richard Rising of Las Cruces. Approximately 5 inches tall and 9 inches in diameter. The color shown is called SANDIA. (Sandia means watermelon in Spanish). These warmers are microwaveable, lead free, and oven safe. Pieces are fired to 2400 degrees F, footed and signed 'Rising, Las Cruces'. Please note: these are hand made one at a time and although every style and/or color may not always be avialable (which adds to the desireablity of the piece you end up with), there will be others that are equally attractive.
Tortilla warmers are quite cheap and come in a variety of sizes to fit large, medium and small tortillas. They are made of terra cotta earthenware, ceramics, plastic and metal and with the great designs and styles available, can definitely add color and style to your table. The ones that are microwave-safe (and chances are very good that yours is) can also work very well as tortilla re-warmers if your tortillas do get too cold. Just pop the whole warmer with tortillas covered in cloth inside into the microwave and heat for less than a minute, depending on how many you have. This not only warms up the tortillas but also softens them up if they have dried out a little. Make sure the warmer lid is kept on though to make sure the tortillas don't dry out. Please do note that if a tortilla warmer is microwave-safe, it does not mean that it is also oven safe.
These handy warmers are great for foods other than tortillas of course, and you can warm pancakes, bagels, croissants, biscuits and dinner rolls in them just as easily without drying them out. The terra cotta ones are best because they do a good job of trapping the heat and dispersing it evenly. Most of the terra cotta warmers usually also have a glazed interior to prevent food and oil from seeping into the pores and being absorbed and this also makes for easy cleanup. These terra cotta warmers in fact make excellent garlic bakers too! As you may know, roasting garlic takes away the harshess of fresh garlic and makes them more delicate in flavor to the point of almost becoming sweet. Roasted garlic cloves are great for adding to foods that call for garlic, use as a spread for garlic bread, add to your pizza, pasta or salads or just to eat with cheese and crackers. And when you don't need to warm or bake anything in them, tortilla warmers make nice tableware to serve toasted breads.
Because these warmers can be multipurpose, it is best to buy the bigger sizes for the larger capacity and the ability to use them for a variety of foods.
Here are descriptions and user reviews of a few other tortilla warmers available online:
Norpro Large Pancake Tortilla Keeper
Procuct description:
Norpro large pancake tortilla keeper. Insulated food server, great for serving hotcakes, tortillas and more.
Reviews:
"...It works best to leave the lid a little offset to allow some steam out until you're ready to serve, or the pancakes or whatever on the bottom can get a bit soggy. This will easily keep things warm for an hour or more. My oven has one of those warmer drawers at the bottom, but I always use this container now as it's easier and doesn't waste any natural gas..."
"...find this to be perfect for keeping bread , tortilla, or pancakes warm while etertaining large groups. I have also used it for cornbread , muffins, and biscuits..."
"...They really are good for any kind of micro wave use. Plus when your making things on the stove, put them in the keepers, and they stay warm. I did some corn on the cob, in one the other day, in the micro wave and it did great. Good purchase, glad I got them. I think they would make good gifts also..."
"...Because I make a big breakfast which includes bacon, eggs, hashbrowns, pancakes and more, I rarely am able to sit down and enjoy breakfast with the family because I want them to have hot pancakes rather than cold pancakes that have been sitting out for a while... but that problem has been solved. I have used this now for the past month and it keeps the pancakes nice and hot and when everything is ready, I am able to sit down with the entire family and enjoy hot pancakes with them..."
Imusa Tortilla Warmer
Product description:
Our tortilla warmer is ideal for heating tortillas and pancakes. The unique design heats your favorite foods in minutes. It is durable and ideal for everyday microwave use. Handwash is recommended with warm soapy water.
Reviews:
"...This particular one is fairly large and will hold my home-made 8" tortillas nicely. With a damp washcloth (folded twice) and a layer of wax paper on the bottom it will easily hold a dozen home-made 8" tortillas. To reheat tortillas just place the container with the washcloth, wax paper and tortillas into a microwave for 30 seconds to two minutes..."
"...It will hold two 10 packs of store-bought tortillas that are thin, but the homemade tortillas, which I can never get as thin as store-bought, keep the lid ajar. The container is deep enough, but the bottom of the lid has a "dip" in it that presses against the tortillas and keeps the lid from closing tightly. What a shame. I guess I'll be purchasing the larger warmer..."
"...Warms your tortillas. It may not be the most attractive design but it does what it is intended to do. For the price and the performance..."